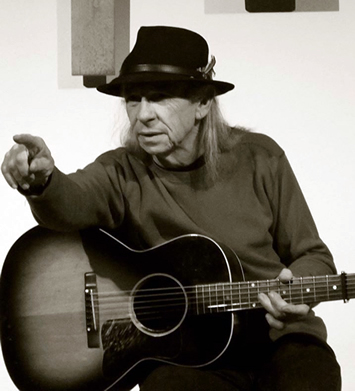 Eddy Lawrence is an Alabama-born folk singer whose wry, insightful songs reflect his Southern upbringing, Native American culture, and rural home in northern New York. After coming up through the Greenwich Village folk scene in the '80s, he settled upstate and became a staple of the regional singer/songwriter circuit, playing clubs, coffeehouses, and festivals while releasing albums like 1996's Locals and 2001's Going to Water on his own Snowplow label. He devoted a period of time to producing and promoting other Native American artists before recording a 2008 duo album with his wife, Kim, called My Second Wife's First Album. Although he remained active as a performer, another ten years passed before his next album, 2019's entirely solo Eddy & the Abstract Truth.
Born and raised in Birmingham, Alabama, Lawrence's early experiences were steeped in country, old-time folk, blues, and other facets of American roots music. Moving to New York city in the early '80s, he cut his teeth with the East Village folk-rock band, LESR, before launching his own solo career as a folk artist with 1986's Walker County. Paying tribute to his native South, the self-recorded, self-released album established his mix of wry humor and detailed, occasionally poignant observations which he sang in a warm, easy tenor. The inaugural release on his Snowplow imprint, he established himself in the city's folk circuit with two more albums, 1988's Up the Road and 1989's Whiskers & Scales, before seeking a more rural home in the northern part of New York state. He remained prolific throughout the '90s, touring the northeastern states regularly along with a handful of national U.S. tours in support of albums like 1994's Used Parts and 1998's Guitars, Guns, & Groceries. While greater stardom eluded him, Lawrence fostered a devoted fan base and earned his share of critical praise from prominent roots and folk publications like Dirty Linen, Performing Songwriter, and Sing Out!.
Most of his recordings have relied on simple, straightforward acoustic arrangements, though in the front half of the 2000s, he re-engaged with the electric sound of his early New York days on albums like 2001's Going to Water and 2004's Inside My Secret Pocket, employing a rhythm section and playing a lively folk-blues-country hybrid. Over the following few years, Lawrence took a hiatus from his own material and focused on working as a producer and arranger for a number of Native American artists, releasing some of them on his Snowplow label and earning a couple of Native American Music Award nominations in the process. Returning to his own career, he wrote and recorded 2008's My Second Wife's First Album as a duo with his wife, bassist Kim Lawrence.
Over the years, his music has been featured on compilations like the Smithsonian Folkways-owned Fast Folk series and NPR's Car Talk Car Tunes. Lawrence continued to perform throughout the 2010s, though it wasn't until 2019 that he returned to the studio. A mix of new originals and a handful of traditional tunes, Eddy & the Abstract Truth was a scaled-down, entirely solo affair with Lawrence accompanying himself on guitar and mandolin.
Biography by Timothy Monger
For a comprehensive discography go to Discogs