satire on the cheap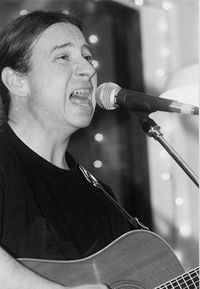 There's DIY and then there's DIY. The music on Alabama-born songwriter and guitarist Eddy Lawrence's sixth self-released album, Guitars, Guns, and Groceries, was not only performed, recorded, and mixed by the artist in his upstate New York retreat, it was also recorded on a Tascam Porta-Studio using only solar- and wind-generated power, and it includes a cover "designed, photographed, laid-out, cut-out, folded, and glued" by the artist and his wife. Besides his Santa Cruz Tony Rice model and an Epiphone mandolin, Lawrence lists equipment like "Faux bass--D-18 or Telecaster tuned wicked low" and "Faux drums--tambourine, egg shakers, Reliance portable toilet, Genny Light beer carton (with empty cans)...." you get the idea.
All of which would be merely clever, except that Lawrence is a great picker and a killer songwriter who recently gave the Big Apple a pink slip, opting to go up the country and "off the grid" after releasing four critically acclaimed albums on his own Snowplow label. The shift in environment is reflected in the title cut, "Guitars, Guns, and Groceries," a celebration of the local general store and its virtuoso proprietor ("He played on the road with Bo Diddley / They opened for the Rolling Stones / But he walked off the gig in Cleveland / The day before rifle season opened back home"). While his satire is hilarious in its articulate twists and turns, Lawrence is also a gifted portraitist who sketches an array of characters, from a state prison warden to a Venezuelan street singer, with detail, compassion, and grit.
"Frequently the songs I write that seem like they're true stories will actually be two or three true stories stuck together," explains Lawrence. "People always want to know about how true things are, but it's more important for the song to be interesting than true." Regarding, for example, "The Day the Humvee Came," a woefully funny tale of government ineptitude, he notes, "I'll gladly tell anybody what really happened, but this is not journalism, it's fiction. If I was to write a song about, 'Well, a Humvee could've gotten stuck in my driveway but it didn't,' it wouldn't have been a very good song."
Lawrence usually sets out to write an entire project. "With this record, I had the themes of fame, performers, and self-reliance in mind before I really started writing the songs," he says. "So I'll have a direction. I might write 30 songs around one theme." Working at home has allowed Lawrence a certain flexibility that he welcomes after making his studio albums. "In those days, I might write 25 or 30 songs and then try to pick out 12 to put on the record. Now, since I've started working with my own machine, I might record 25 or 30 songs and pick out however many I'm going to put on it." While there are certain trade-offs, he says, "It works out better making the records with a lower sound quality but having the freedom to experiment."
These recording habits go hand in hand with the work ethic Lawrence acquired during his years in New York City. "Most of the people I was close with were painters, visual artists," he says. "And I got influenced by this idea that you work on what you do. Whether anybody ever sees it or listens to it or buys it or not, you just do it because that's what you do." He sees himself first and foremost as a songwriter; the recordings are a way to get the songs heard.
Lawrence continues to play locally and regionally, mindful of the fact that wherever you go, there are people making music outside the commercial mainstream. Moreover, he's careful to point out that "I live sort of out in the boonies but that doesn't mean that I don't like people. I believe in a sense of community, both a geographic community and a union of kindred spirits. I have my own peculiar way of looking at things, I guess, but that doesn't mean that I'm trying to be completely separated from everything."
David Hamburger
Acoustic Guitar