Shooting from the Hip
songwriter Eddy Lawrence strikes an acoustic nerve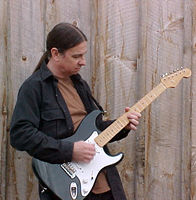 I know Eddy Lawrence. At least I do as I zoom through Santa Clara and St. Regis Falls and scoot a dozen or so miles over the Adirondack Park's northern border into Moira. Here, at the town's four corners, a tractor crawls at five miles per hour, its driver saluting passersby as I creep behind him. I'm just ten minutes from Eddy's place now, and running behind. But this gives me more time to acquaint myself with him before we meet. I listen to a few more of his songs -- his mostly funny, lyric-driven vignettes that draw from this area, from the folks waving at the farmer in front of me; from the region's snowdrifts, often thick enough to stop an army; even visiting day at the local correctional facility. In one song he trashes deadbeat parents, in another it's overzealous customs agents.
Eddy bares it all in his albums. According to "How I Met My Wife," he and his bride had a unique beginning: I had seen her here and there at bars and parties / We had even shared a joint a time or two / But I never really noticed her until I saw her in the parking lot wearing just her shoes. On that CD, he sings about another woman: I rattled it back on up the truck trail, to where Indigo was waitin' at camp / She was sittin' at a fire made of cast-off tires countin' the rest of this month's food stamps . . . I know a better man than me would leave you, Indigo. Then there's Eddy's fascination with firearms, expressed in "My Good Eye": The only thing that fires my interest is a cartridge in the bore of this sexy piece of darkness in my hand. And thanks to his tune about Shania Twain, we all know where he lives: Shania Twain, Shania Twain, I live just down the road from Shania Twain / Me, I'm close enough to fortune and fame, living just down the road from Shania Twain.
But wait. Eddy's place, off Route 95, in Franklin County, is more like twenty miles away from the multimillion-dollar recording studio and compound Twain and her husband, music producer Mutt Lange, built on Dexter Lake. And on second thought, did he really meet his wife naked in a parking lot? Fortunately, after I bump down Eddy's long dirt driveway and settle on a mini-sofa in the tiny bungalow he shares with his wife, Anne, he clears up any confusion by answering my pedestrian question. "In any given song you're going to find pieces of somebody," he says, sitting across from me, dressed in black, his dark hair tied back at his neck. "But I try to live by the rule: Don't let the truth get in the way of the song."
He's right. People have a habit of marrying songwriters to their words and are often miffed when there's no fiction or nonfiction label stamped beneath the lyrics. "I bristle at that because I can sit down and write songs about myself and people I know and never embellish them," he explains. "But why? I'm just another guy. Who cares about me?"
We care because Eddy's smooth tenor voice, his knack for witty lyrics -- embellished or not -- and his power of imagination and observation give admirers so much pure, though at times adulterated, entertainment. He helps us giggle at our beloved region, mull over "heavy crap," as he calls it, and appreciate our quirky and often overlooked North country characters and landmarks. Take the title track to Eddy's 1998 album Guitars, Guns, & Groceries. It was inspired by Dick's Country Store, in Churubusco: It's owned by a little Frenchman by the name of David Lubec / Who comes from a long line of trappers / He knows every inch of dirt from here to Quebec / He started playing guitar at eleven / He joined a band when he was twelve / He got his first deer in his fourteenth year / The rack is hanging in the store / Where he sells . . . guitars, guns and groceries, and self-service gasoline, a hot cup of joe and a six-pack to go / What else in this world could you really need?
All this from a self-described outsider. Eddy's lived up here a decade, gardening, trapping and hunting his seventy-six acres of former farmland. He first lived in a closet-size shed and used an adjacent outhouse, and later built a sixteen-by-twenty-eight-foot home with solar panels, outfitting it with a wood stove, generator, composting toilet and a water pump in the back yard. Originally from Alabama, he had a studio apartment on Manhattan's Lower East Side, then a place in Union City, New Jersey, before moving north. "I realize what a detriment it is to live in the North country and have Jersey plates," he says. Still, neighbors have been good to him, and he captures perhaps what he believes to be his status in Moira in his tune "Locals": I am not a local, anyone can plainly see / I might live here for fifty years and still I wouldn't be / The jokes I tell, the clothes I wear, the work I do, the car I drive / The books I read, the beer I drink, tells everyone that I am not a local / Although this is my home / There are many secrets here that I can never know / There are songs out on the backroads that I can never hear / Stories on the fencelines that can't find my ear.
Actually, Eddy's talents include scouting out backwoods tales and absorbing the flavor of his surroundings wherever he goes. "You can hear what's been going on in my life by what my records are about," he says, leading me to ask about his whereabouts -- mental and otherwise -- during the recording of Going to Water, an album he released in 2001. It's a departure from his earlier work, more electric, political and defiant, and constructed entirely around Native American themes. Some fans voiced "problems" with that CD because it sounded so different, he admits. "I've had e-mails saying, 'Why did you put drums on your record?'"
Just before making that album, Eddy started hanging out on the "Rez" -- the Akwesasne Mohawk Territory, in Hogansburg. There, he began giving guitar lessons and playing with the Thundertones, a Mohawk band that performs traditional French Canadian fiddle tunes. Also, "I have Native ancestry myself," he says. "My mother's family were Cherokee who escaped removal by hiding out in the hills of North Alabama."
Eddy's experiences with the Thundertones and his new pals on the Rez prompted the song "Onkwehonwe Polka" (Onkwehonwe means "Native person" in Mohawk), which received so much air time in Hogansburg it's the closest thing he's had to a hit. Soon came tunes like "Radio Bingo," about the popular Rez pastime of playing the game via the radio -- letters and numbers are called in both English and Mohawk: It's easy to bingo if you know the lingo / Just get a card and you'll see. And "Four Faces," a critical interpretation of the statues chiseled into Mount Rushmore: Four faces look down, stormy and still / Four white faces carved in the Black Hills / Four faces look down from up in the sky / Four great white fathers telling great white lies. This song prompted an invitation to the Lakota's Pine Ridge Reservation, in South Dakota, last June, where he was asked to perform in a concert dedicated to the cause of imprisoned American Indian Movement crusader Leonard Peltier; Eddy says it was a career highlight.
He hasn't been on the road since. I don't want to go anywhere," he says. But when he does feel like gigging, he performs in midsize venues -- clubs that seat about five hundred people. He's toured as a member of rock groups, but his solo act has brought him plenty of opportunities, like a prestigious opening slot for songwriting legend Richard Thompson. In the mid-1980s Dwight Yokum warmed the crowd for Eddy in New York City.
There are hundreds of tunes in the Eddy Lawrence repertoire, some he can't remember, others he chooses to forget. "Songs are like kids," he explains. "Sometimes they go bad and you just have to tell them to leave home." All of his work is original, except for one cover on Guitars, Guns, & Groceries: "My own twisted version of a John Denver song, 'Thank God I'm a Country Boy.'" Eddy alone plays every instrument on his recordings -- guitar, mandolin, keyboards, fiddle and drums.
His last two albums were created, edited and mastered here, in the corner where he reclines right now, four feet away from the sofa where Anne watches television in the evening. According to Eddy, headphones are necessary when you cohabit and mix music in small spaces, which explains why Anne has yet to hear his newest album, My Secret Pocket, a project encouraged by his therapist.
Completing this work was "like going through an emotional root canal," he says, and the end result is "a record unlike anything I've done before -- it's extremely personal." that's exactly the reason why, when it's time for me to leave Eddy and the stillness of his land, I can't wait to listen to the copy he's given me. My truck bounces out the driveway, and I slide the CD in the stereo, press play and get to know Eddy a little more.
Annie Stoltie
Adirondack Life
February 2003