Rich Girl
Iohonwaa:wi
Kanienkeha Blues
Women's Power Song
Spirit Fire
Ironworking Hubby
Broken
Ratiristakeronon
Childhood Memories
Creator's Gift
Our Precious Mothers
Sky World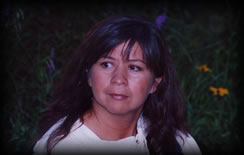 Bear Fox (Kenkiohkokhtha) is a member of The Ahkwesahsne Women Singers (Kontiwennaha:wi), a traditional singing group. She has written many songs for Kontiwennaha:wi and has previously released a solo, a cappella collection of her songs. "Spirit Fire" is the first recording that she has done with contemporary instruments.
The songs on "Spirit Fire" reflect Bear's life on the Ahkwesahsne Reserve, which spans the border between Northern New York State and Canada. One of fourteen children and the mother of five, family matters play a prime role in her writing. "Rich Girl", for instance, describes her experience growing up in a large family that struggled to make ends meet:
Our house it was very old / In the winter it was so cold / Wood-filled woodstove for our heat / Bundled in blankets we would sleep / People thought that we were poor / Because of the holes in our floor / But I'm a rich girl can't you see / So much love in our family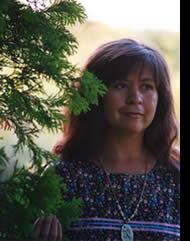 "Ironworking Hubby" pays homage to the Ahkwesahsne tradition of high-steel work while also describing the frustrations felt by family members left home for extended periods.
Several of the songs are in the Mohawk language, with lyrics written by Margaret Peters. Another song "Kanienkeha Blues" tells of the difficulties Bear has encountered trying to learn her native language as an adult.
The music on "Spirit Fire" can best be described as contemporary Native American folk, with acoustic guitar being the main accompanying instrument, fleshed out here and there with bass guitar, harmonica, and percussion. Four of the songs are presented a cappella. The album was produced by Eddy Lawrence, who also provided instrumental backing and engineered the recording.