"Hello. My name is Tekahiónhake. I am wolf clan. My wife is Kaweienón:ni and between us we have 7 children. This CD is called Rarennenhá:wi (He carries a song) after my grandson because my wife and I are always working towards helping our community to relearn our language. Kim and Eddy Lawrence are two extremely creative and good minded people who are helping us to revitalize our language. We give them much gratitude for the wonderful work they are doing. I also give thanks to the many children whom I've taught through the years and how they have learned to sing my songs. I give thanks to the many people who are working towards saving our languages. Our language is of most importance and very beautiful. I encourage people to listen to my songs and to learn to sing them. I acknowledge my sister Kasé:waien for the work she is doing towards saving our language. "Tiorahkwáthe my friend, it's your fault I started singing. Big thank you and much gratitude". This music also belongs to my children, our grandchildren and the generations yet to come. I hope Rarennenhá:wi will learn my songs and carry them on."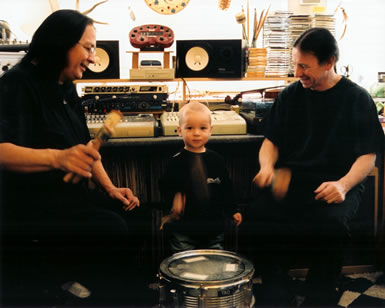 I first met Tekahiónhake (Teddy) Peters in the spring of 2003 when he was looking for someone to provide instrumental backing for some country music songs that he had translated into Kanien'kéha (Mohawk). I was already aware of Teddy through his Saturday afternoon show on CKON, the radio station at Ahkwesáhsne. Teddy's show stood out from the usual CKON programming in two ways. First, he announced in Kanien'kéha and second, he ignored the usual format and playlist constraints that bound most of the CKON DJs. Teddy's "format" was (and still is) to play whatever people asked for or whatever he liked and felt like playing. Country music has always been popular at Ahkwesáhsne, so that was the main focus of his show, especially older, classic country, though he also played a lot of native and local artists as well as rock and even some hip-hop and dance music. But what really drew me to Teddy's show was the opportunity to listen to the Mohawk language being spoken. Although CKON featured daily Kanien'kéha lessons and a sprinkling of Mohawk words during regular programming, it was another thing entirely to hear 6 hours of Kanien'kéha. And it wasn't just six hours of hearing songs announced in Mohawk. Teddy also told stories and jokes and did interviews, all in the language and much to the delight of many of the older, fluent speakers in the community. But the announcing wasn't enough for Teddy. He wanted to play songs sung in Kanien'kéha, but there was very little music in Mohawk for him to choose from. So Teddy set out "translating" some of his favorite country songs into Kanien'kéha.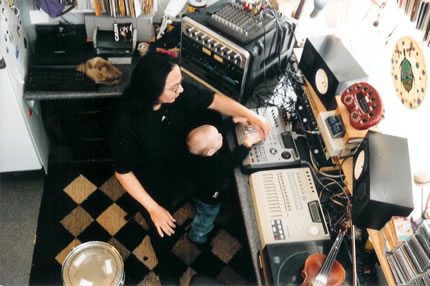 I put "translate" in quotes, because although some of Teddy's lyrics are very close Mohawk versions of the English songs, others are completely original stories set to the melodies of existing songs. Take his version of Johnny Cash's "Folsom Prison Blues", for example. He starts off by saying, "Kwe, Sawátis Ohwísta iónkiats", which literally translates "Hi, John Money I'm called." From there he tells the story of a young boy living on Kawehnóke (Cornwall Island) in Ahkwesáhsne, who hears a strange sound and then sees his first train, which nearly runs him down. The story goes on to tell how the boy has to go to the city of Cornwall to attend school. The child really likes studying until "shakorihonnién:ni" (a male teacher) hits him over the head with "kahiatonserowánen ionhóntsiare" (a big geography book.) The next day, the boy returns to school and the teacher smacks him with the book again, at which point the young man puts on his coat, leaves the classroom and heads down to the river where he knows his grandfather will be waiting. The song ends with the boy hiding out on St. Regis Island. The intriguing thing about "Sawátis Ohwísta" is how Teddy takes the message of the Johnny Cash song and puts it in reverse. In "Folsom Prison Blues" the train that the inmate hears represents the outside world and freedom. In Teddy's song, it's the outside world that is seen as threatening. All of this is told with a sense of humor and some clever wordplay that would make any songsmith proud.
The thirteen songs on "Rarennenhá:wi" were selected from scores of recordings that Teddy and I have made over the course of the past three years. The earliest ones were recorded in casual sessions at various impromptu locations around Ahkwesáhsne with sundry drop-in musicians. Eventually he and I decided to simplify things and started recording everything at my off-the-grid home studio in the backwoods of Moira, NY. As I began to understand and appreciate the beauty of Teddy's lyrics, I put more care and time into the recording process.
It was not just Teddy's lyrics that made an impression on me, but the Mohawk language as well. I did not grow up at Ahkwesáhsne and was well into my 30's before moving to the area in the early 1990's, and I got my first exposure to Kanien'kéha while playing guitar with the Thundertones, several years before meeting Teddy. After recording and mixing a few of Teddy's songs, I got the urge to sing some harmony with him, even though my knowledge of the language was limited, to say the least. I had made a few unsuccessful attempts to learn Cherokee, the language of my ancestors, but was frustrated by the difficulties of having no local Cherokee speakers to interact with. But somehow, Teddy's lyrics seemed easy enough to sing along to, even if I was generally clueless as to their meaning. So one day while mixing one of his songs, I decided to sing a harmony part in Kanien'kéha by simply copying what Teddy sang. When I gave him the finished song, I warned him that there would be something a little different in the mix and that he might want to give it a listen before playing it on the air. As it turned out, Teddy was pleased and very encouraging in my attempts. I went on to take some Mohawk language classes and eventually learned how to read and write in the language, even though I am still far from fluent. I have continued my studies, both formally and casually and, beginning last fall, my wife, Kim, and I have been providing music for and giving guitar instruction (in Kanien'kéha) to kids in Teddy's immersion class at the Snye School. We've also been providing musical and technical assistance for many of the language projects that Tekahiónhake and his wife, Kaweienón:ni, are involved with.
Niawenhkó:wa (thanks very much) to the Ontario Aboriginal Language Initiative for making this CD possible and to the Sweetgrass Language Council for their support of native language revitalization. The proceeds from the sale of this CD will be used to help fund future Kanien'kéha projects.
Eddy Lawrence